Bright Green Announces First Quarter 2023 Financial Update and Milestone Progress
Bright Green has achieved several key milestones throughout the Quarter significantly advancing progress against its strategic plan, including a historic DEA Federal Registration and License Approval.
Commencement of its fundamental capital raise of $500+ million utilizing the U.S. Citizen & Immigration Services EB-5 program, alongside the recently announced decision to fully acquire Alterola Biotech, showcases the Company's significant progress against its strategic plan.
Company has raised short-term working Capital of $5.26m to commence its operations as it looks to capitalize on its historic DEA Registration in Q2 2023 and beyond.
GRANTS, N.M., May 24, 2023 (GLOBE NEWSWIRE) -- Bright Green Corporation (Nasdaq: BGXX) ("Bright Green" or "the Company"), one of few companies selected by the U.S. government to grow, manufacture, and sell, legally under federal and state laws, cannabis and cannabis-related products for research, pharmaceutical applications and affiliated export, reported financial results for the quarter ended March 31, 2023.
"This quarter, Bright Green was focused on several key operational and strategic milestones which have validated our plans and, ultimately, rewarded our patience. The commencement of the EB-5 program in February, combined with the DEA site assessment in March, positions the Company to now move at pace to establish its operations and secure its position as one of the largest Medical Cannabis growers, manufacturers and suppliers in America who are federally authorized," said Bright Green Chief Executive Officer, Seamus McAuley. "The Company made the strategic decision some time ago to focus on ensuring all the foundational elements were initially achieved and held fast to that decision so that we might realize the full potential of the opportunity that lies ahead for the Company and ensuring we maximize the value opportunity for our shareholders. Q1 2023 saw the fulfilment of our ambitions, alongside the capital to deliver our plans and having just enabled a small bridging finance equity raise, we will now turn our absolute focus to delivering product, revenue and scale as per our business plan which will, in turn, allow us to fundamentally establish our position in this marketplace."
Mr. McAuley continued, "Coupled with our strategic partnership and pending acquisition of Alterola Biotech, the Company are now deeply rooted in both the biotech and cannabis industries and we are well-positioned with the right talent and expertise to guide our development, have sufficient Capital to start our programs and commence manufacturing our products which have an enormous revenue potential, as well as capitalizing on the growing demand for federally approved cannabis, and we very much look forward to sharing further updates on our progress in the coming months as we move towards realizing the value of our opportunity and to delivering our plan in 2023."
Strategic Highlights for First Quarter 2023
Bright Green announced the appointment of Chief Operating Officer (COO) Seamus McAuley as its new Chief Executive Officer (CEO), succeeding Mr. Terry Rafih, who retained his role of Executive Chairman of the Board of Directors. Mr. McAuley has held several global senior leadership positions across the pharmaceutical, medical device and healthcare industries, including most recently as the CEO of Alterola.
 
The company announced its plans to raise $500 million utilizing the USCIS EB-5 Program to accelerate its 2023 growth strategy and generate significant capital for use in its greenhouse construction and operations in Grants, New Mexico.
 

The EB-5 Program, which President Biden reauthorized in 2022, is an innovative vehicle for spurring investment and job creation in rural communities. Bright Green's participation will add significant value to the region, while also generating the capital needs for its commercial and business initiatives.
The Company disclosed that it received funds from its first applications under the EB-5 Program, validating the proof of concept of the EB-5 Program, supporting working capital requirements to operate its current greenhouse facilities and setting the stage for the next phase of its strategic growth plan.
To date, Bright Green has sold 44,010 shares of common stock at $39.99 per share, receiving proceeds of $1.76 million. The Company also received executed subscription agreements from 37 investors to purchase 814,185 shares of common stock for $32.6 million.
The DEA completed their on-site audit and assessment of our facilities in March 2022, which culminated in Bright Green being registered as a bulk manufacturer by the DEA and issued our Federal Registration and License Approval on May 01, 2023.
 
The Company outlined its plans to move forward with its acquisition of Alterola, following the completion of its initial 25% acquisition during the quarter.
 
After the quarter close, Bright Green entered into a Securities Purchase Agreement with an institutional and accredited investor for the sale by the Company of (i) 3,684,210 shares of Common Stock and (ii) warrants to purchase up to an aggregate of 3,684,210 shares of Common Stock, in a private placement offering at a purchase price of $0.95 per share and accompanying warrant.
 
Financial Highlights for First Quarter 2023
The Company recorded no revenues for the quarter, as it continues to build facilities to grow, research and distribute cannabis, pending DEA inspection, registration, and quota approvals.
Total operating expenses of $2.6 million, up from $0.7 million in the same quarter of 2022, in line with expectations and resulting mainly from payments to support the continued scaling of Bright Green's operations, salaries and ramp-up expenses incurred towards commercialization. Of the $2.6 million in operating expenses, $0.8 million corresponds to equity-based compensation to officers, contractors, and professional services providers.
Net loss of $2.6 million, in line with expectations.
Basic and diluted loss per share of $0.02 for the quarter.
Balance Sheet and Capital Allocation
As of March 31, 2023, the Company had cash of $422,502, consistent with it's cash position of $414,574 at December 31, 2022.
Total liquidity of $11.9 million, including the remaining balance on the credit facility of approximately $11.5 million.
During the first quarter of 2023, Bright Green received cash proceeds of $1.3 million mainly from the sales of common stock of $12.19 million. This increase was partly offset by the use of funds for the construction in progress, equipment, and professional service fees.
 
Bright Green's balance sheet and statement of operations are provided below. Additional information is included in the Company's quarterly report on Form 10-Q for the quarter ended March 31st, 2023, which can be accessed at: https://investors.brightgreen.us/news-events/news-releases
About Bright Green
Bright Green is one of the very few companies authorized by the U.S. government to grow, manufacture, and sell, legally under federal and state laws, cannabis and cannabis-related products for research, pharmaceutical applications and affiliated export. Our registration by the U.S. Drug Enforcement Administration gives us the opportunity to advance our vision of improving quality of life through the opportunities presented by cannabis-derived therapies. To learn more, visit www.brightgreen.us
Media Contact
BrightGreen@edelman.com
Investor Relations Contact
BrightGreenIR@edelman.com
Forward-Looking Statements
This press release contains "forward-looking statements" within the meaning of the "safe harbor" provisions of the Private Securities Litigation Reform Act of 1995. These forward-looking statements are made as of the date they were first issued and were based on current expectations, estimates, forecasts and projections as well as the beliefs and assumptions of management as of such date. Words such as "expect," "anticipate," "should," "believe," "hope," "target," "project," "goals," "estimate," "potential," "predict," "may," "will," "might," "could," "intend," "shall" and variations of these terms or the negative of these terms and similar expressions are intended to identify these forward-looking statements. Such forward-looking statements include those related to our EB-5 Program capital raise. Forward-looking statements are subject to a number of risks and uncertainties, many of which involve factors or circumstances that are beyond the Company's control. The Company's actual results could differ materially from those stated or implied in forward-looking statements due to a number of factors, including but not limited to, risks detailed in the Company's Registration Statement on Form S-1 filed with the Securities and Exchange Commission (the "SEC") on March 29, 2022 and declared effective May 13, 2022, and in the Company's subsequent Annual Reports on Form 10-K and Quarterly Reports on Form 10-Q, as well as other documents that may be filed by the Company from time to time with the SEC. The forward-looking statements included in this press release represent the Company's views as of the date of this press release. The Company anticipates that subsequent events and developments will cause its views to change. The Company undertakes no intention or obligation to update or revise any forward-looking statements, whether as a result of new information, future events or otherwise. These forward-looking statements should not be relied upon as representing the Company's views as of any date subsequent to the date of this press release. Additional information regarding these and other factors that could affect the company's results is included in the Company's SEC filings, which may be obtained by visiting the SEC's website at www.sec.gov.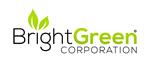 Source: Bright Green Corporation