Bright Green Provides Update on Progress as It Prepares for Multiple Activities in 2023
GRANTS, N.M., Jan. 17, 2023 (GLOBE NEWSWIRE) -- Bright Green Corporation (NASDAQ: BGXX) ("Bright Green" or "the Company"), one of the very few companies selected by the U.S. government to grow, manufacture, and sell, legally under federal and state laws, cannabis and cannabis-related products for research, pharmaceutical applications and affiliated export, today provided an update on progress on the execution of its business plan and the developments ahead for 2023.
Following the U.S. Drug Enforcement Administration (DEA) inspection of Bright Green's agricultural complex, including its pre-existing facilities, as well as greenhouses and manufacturing facilities, in September 2022, the Company are very pleased to announce the completion of its processing facilities and have now scheduled a "dry run" audit, testing both the SOP's (Standard Operating Procedures) and processing capabilities as a requirement before final registration.
"We thank the DEA for their support and their continuous visits to our state-of-the-art agricultural and schedule 1 manufacturing complex in Grants," said Terry Rafih, Chief Executive Officer and Chairman of the Board of Bright Green. "We have also been focused on the capital requirements to execute on the next phase of our facilities and the completion of our business plan. Meeting these goals will further enhance our capabilities throughout 2023 and 2024 as our capital needs are achieved. I am also pleased with the Bright Green teams' progress and as a result the Company will move forward with building revenue and creating a significant future for our stakeholders. We have now established our leadership role in the medical side of this emerging market and expect to play a significant role in the United States as well as worldwide."
"Our approach to raising the requisite capital to execute our business plan is both creative and relatively unique. By utilizing traditional debt financing to secure interim working capital, and as a bridge to the more substantive and longer-term equity investments, through both Federal and State programs, Bright Green aims to deliver the required investment in the company with a minimally dilutive effect," said Seamus McAuley, Chief Operating Officer of Bright Green. "Through these debt and equity mechanisms, our goal will be to raise sufficient capital to commence and complete construction on Phase 2 of our facilities in New Mexico. These efforts, when completed, will designate Bright Green as one of the largest producers of cannabis and cannabis-related products for research, pharmaceutical applications and affiliated export in the world."
The Company has also recently executed a Letter of Intent with Alterola Biotech Inc. (OTC PINK: ABTI), a U.K.-based pharmaceutical company focused on developing cannabinoid and cannabinoid-like medicines and products, for the supply of cannabinoid Botanical Raw Material (BRM) and Active Pharmaceutical Ingredients (APIs) in preparation for the release of appropriate product, which also further enhances the relationship between the Company and Alterola as previously announced.
"Bright Green is making fantastic progress, and 2023 promises to be a very exciting year as Bright Green and Alterola hope to come together following the completion of Bright Green's financing activities and the completion of their processing facilities in New Mexico," said Tim Rogers, Executive Chairman of the Board of Alterola. "Bright Green and Alterola share the vision of creating FDA and other regulatory-approved medicines which will deliver therapeutic benefits to patients for specific conditions and producing high quality BRM and APIs. It is essential for our combined cannabinoid product development programs as well as for delivering potentially game changing practices to benefit the patients who will receive our medicines." The combined group has the resources, technology and state and federal approvals to now achieve revenue unpresented in this emerging market.
About Bright Green
Bright Green is one of the very few companies selected by the US government to grow, manufacture, and sell, legally under federal and state laws, cannabis and cannabis-related products for research, pharmaceutical applications and affiliated export. Our conditional approval based on already agreed terms from the U.S. Drug Enforcement Administration gives us the opportunity to advance our vision of improving quality of life through the opportunities presented by cannabis-derived therapies. To learn more, visit www.brightgreen.us.
Cautionary Note Regarding Forward-Looking Statements:
This press release contains "forward-looking statements" within the meaning of the "safe harbor" provisions of the Private Securities Litigation Reform Act of 1995. These forward-looking statements are made as of the date they were first issued and were based on current expectations, estimates, forecasts and projections as well as the beliefs and assumptions of management as of such date. Words such as "expect," "anticipate," "should," "believe," "hope," "target," "project," "goals," "estimate," "potential," "predict," "may," "will," "might," "could," "intend," "shall" and variations of these terms or the negative of these terms and similar expressions are intended to identify these forward-looking statements. Forward-looking statements are subject to a number of risks and uncertainties, many of which involve factors or circumstances that are beyond the Company's control. The Company's actual results could differ materially from those stated or implied in forward-looking statements due to a number of factors, including but not limited to, risks detailed in the Company's Registration Statement on Form S-1 filed with the Securities and Exchange Commission (the "SEC") on March 29, 2022 and declared effective May 13, 2022, and in the Company's Quarterly Report on Form 10-Q/A filed with the SEC on August 19, 2022, as well as other documents that may be filed by the Company from time to time with the SEC. The forward-looking statements included in this press release represent the Company's views as of the date of this press release. The Company anticipates that subsequent events and developments will cause its views to change. The Company undertakes no intention or obligation to update or revise any forward-looking statements, whether as a result of new information, future events or otherwise. These forward-looking statements should not be relied upon as representing the Company's views as of any date subsequent to the date of this press release. Additional information regarding these and other factors that could affect the Company's results is included in the Company's SEC filings, which may be obtained by visiting the SEC's website at www.sec.gov.
Bright Green Media Contact
BrightGreen@edelman.com
Bright Green Investor Relations Contact
BrightGreenIR@edelman.com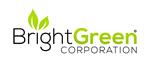 Source: Bright Green Corporation